Innovative Solutions
Original Research & Surveys
Custom Research Leads to Better Business Decisions
Put our unique relationship with and knowledge of the facility management market to work for you with proprietary research. Our research team will work with you to determine survey objectives and survey questions. Our experienced editors and market researchers work with you develop survey questions. We program and host the survey, conduct the survey, tabulate the results, analyze the data and provide you with a comprehensive report which you can use for any marketing purpose. Surveys are usually deployed via the web. However, mail surveys, phone surveys and focus groups can also be conducted.
Research Options
Brand Awareness
Product Perception
Ad Testing
Customer Satisfaction
Other/Custom
Brand Awareness
Testing brand awareness and preference can help you measure the success of your advertising and marketing programs among facilities executives. Brand awareness research is usually repeated every 1-3 years to track how well your marketing communications efforts have influenced FMs. Competitor brands can be added to your research study in order to provide a comparison for analysis.
Product Perception
A product perception survey provides important information on the strengths and weaknesses of your product. You'll discover which attributes of your product are most valued, and how FMs feel about your product compared to your competitors.
Ad Testing
Testing a new ad campaign before launch can provide valuable insights on how well your message and creative will resonate with facilities executives. Testing your ads with FMs before campaign launch can resolve any issues prior to roll-out and maximize your media investment.
Customer Satisfaction
A customer satisfaction study can identify what's contributing to the FM's purchase experience and what's detracting from it. Information that helps you implement customer retention and loyalty strategies.

Get the information you need, in the context necessary to make both large-scale and everyday decisions with confidence. Call or email us for a free one-hour consultation to discuss your research needs and how we can help you. Contact Tim Rowe at 414-368-6860 or email tim.rowe@tradepress.com
View FM Research Reports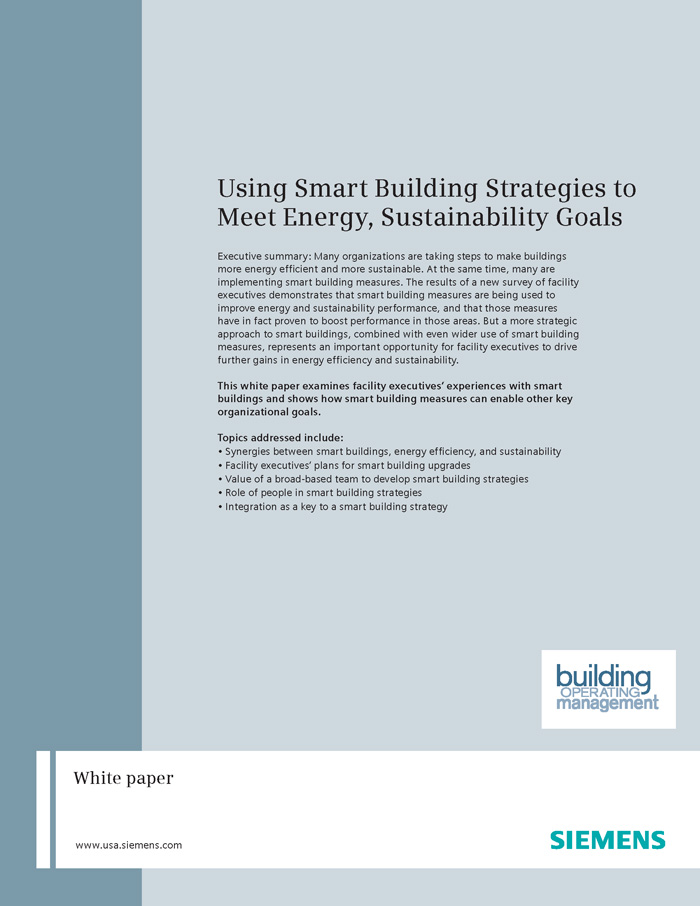 White Paper / eBook Development
Marketing support - from experts in the facility market
Content marketing using white papers and eBooks offers a proven way to meet your marketing objectives. Both white papers and eBooks use high-value, objective information that can position your company as a thought leader or deliver a key marketing message in a format that will provide quality leads for your sales team.

The key to success in content marketing whether creating a successful white paper or producing an eBook is working with a knowledgeable editorial team that understands the information needs of the facility audience. Our editorial staff has more than 85 years of combined experience covering all aspects of the facility market - a knowledge base you can't find anywhere else. We provide a turnkey approach to creating high value content to meet your needs.
White Papers
A white paper is an indepth report delivered as a print-ready PDF. White papers may report on an emerging concern, analyze a trend, or examine developments in technology. The specific topic is determined in consultation with your team. A typical length is 2,000 words. If original research is needed, we can work with you to gather information to support your goals. Then our experienced editors and writers take over, conducting interviews, gathering information, and drafting the white paper for your review. From there, we design and lay out the white paper, providing graphics resources and using your template or creating one for your project. We offer the option of co-branding the white paper with your brand, Building Operating Management and Facilities Maintenance Decisions.

The finished white paper is suitable for printing, for posting on your website, and for other marketing purposes. You own the white paper - the content is yours to use as you need.
eBooks
An eBook is designed to be read on a tablet or desktop. Appealing graphics help deliver key points, often with fewer words than a white paper. After consultation with your team to brainstorm topics, sources, and approaches, our expert staff will research, write, and lay out an eBook of approximately 1,800 words, which will be delivered as a PDF. As with white papers, our staff offers a turnkey approach. We handle the entire process, information gathering, content creation, graphics, layout, and distribution. And the eBook content is yours to use to meet your marketing needs.
Custom Content Capabilities
Turn key content creation
Experienced editorial support
Powerful distribution to facility decision makers
Lead generation
Quantitative and qualitative research
Design and layout capabilities
White paper
eBook Development
Distribution
Our proven distribution strategies combine a variety of tested methods to put your carefully crafted message into the hands of facility decision makers responsible for the nation's largest buildings and portfolios.
Amplify Your Message
Custom content has many uses. Here are some proven strategies for using custom content to rev up marketing efforts:
Provide fullfilment item for other marketing efforts
Incorporate survey data into other marketing pieces
Excerpt or repurpose copy for blogs on your website or other sites
Use on your website to convert visitors into sales leads
Email to key customers and prospects
Highlight in newsletters to customers and prospects
View Sample
Additional Visibility Options
Additional visibility options can be customized for each program.
Options are:
eNewsletter visibility
FacilitiesNet inline or lead gen ads
Retargeting the FM audience
Topic behavior retargeting the FM audience
Dedicated email blasts
Targeted dedicated email blasts
Social media mentions
Direct mail postcards
BOM and FMD print ads
Pipeline Qualified Leads Program
What It Is: This program provides you pre-qualified facility executives willing to be contacted regarding their needs for products and services. They've already told us they need help operating their buildings, seeking products like yours.
Why It Is Effective: No risk! You only pay when we fulfill the contract and deliver your leads. Rate/lead is dependent upon your lead criteria. Minimum number of leads delivered is 30. Approximately six weeks from beginning of program to deliver leads to you.

Our experienced telecom team calls subscribers of Building Operating Management and Facility Maintenance Decisions, asking targeted questions that you've provided. The telecom team uncovers the hottest prospects that are interested in learning about your products or services. We turn these leads over to you. These potential buyers give us their permission to have your sales team contact them.