Editorial Mission
The mission of Building Operating Management is to provide timely, useful information to help facility executives make decisions that will provide maximum value to their organizations. Our primary focus is to provide our readers with essential background to evaluate building product and system choices. To do that, we examine changes in specific technologies. But we go further. Our articles report on ways to maximize performance over the life cycle of a product; describe developments that are reshaping the way buildings are designed and used; and offer advice on justifying investments in facility technology. Our coverage draws from an array of authoritative sources, ranging from independent experts to sophisticated facility executives who have first hand experience developing specifications, selecting products, and evaluating performance.
Because we serve facility executives responsible for a diverse range of the country's largest commercial and institutional buildings - including office buildings, college campuses, school districts, hospitals, medical clinics, retail chains, hotels, data centers, and government buildings - we also provide up-to-date analysis of trends and issues that will help readers address the challenges facing their specific type of building in a fast changing world. Wearing many hats- including design and construction, engineering, facility management, planning and development, and operations - and always pressed for time and resources, readers use Building Operating Management to stay abreast of industry developments and learn about best practices and tools to implement at their facilities.
Audience
Building Operating Management magazine circulates to a 100% qualified list of 73,000 building owners and facilities executives. Our subscribers are engaged, motivated and manage multi million-dollar budgets. They are the movers and shakers in the industry. When you advertise with Building Operating Management, you reach and influence these types of high-ranking, influential readers.
Building Owners
Presidents, Vice Presidents, Partners, CEO's, CFO's, CIO's, COO's
VP/Directors of:

Facilities & Buildings, Real Estate; Property and Asset Managers; Building and Facilities Managers;

Construction Managers
Directors of Energy Services
Directors of Sustainability
Superintendents of Schools/School Districts
With Building Operating Management, your marketing will reach and influence 73,000 buyers including:
Executive Director Facilities, 20th Century Fox Film Corp.
Senior Manager Facility Operations, AOL Inc.
VP Retail Property Management, Wells Fargo
Asset Manager, LA Dept. Water & Power
Director of Operations, Florida DOT
Facilities Manager, New York City Police Dept.
Chief Engineer, Johnson Controls
Director Global Facilities, General Motors
Vice President, Transwestern
CEO, Caesars Entertainment
Director of Property Operations, Hilton Hotels Corp.
Facility Director, YMCA
CEO, Bellevue Hospital Center
Property Manager, Mount Sinai Medical Center
Vice President of Facilities, Froedtert & Medical College of Wisconsin
President Real Estate Construction, Macys
Senior Facilities Manager, Adidas
Senior Director Facilities Services, Wal Mart Stores Inc.
Senior VP CFO, Mount Sinai School of Medicine
Superintendent, Los Angeles Unified School District
VP of Facilities, Purdue University
Average years of experience is 19.2
Years of Experience in Facilities Management
More than 30 years
18%
21 to 30 years
29%
11 to 20 years
31%
10 years or less
22%
Average age is 53 years old
Age Group
Under 35 years old
3%
35 to 44 years old
14%
45 to 54 years old
33%
55 to 64 years old
43%
65 years or older
7%
Gender
Male
83%
Female
17%
Product Selection Involvement
Access Control
80%
Access Flooring
69%
Acoustics/Sound Masking
69%
ADA Products
82%
Alternative Power (Solar, fuel cells)
55%
Building Information Modeling
21%
Boilers, Boiler Controls
71%
Building Automation Systems
80%
Building Sealants, Coatings/Waterproofing Products
81%
Carpeting
73%
Ceilings
83%
Cleaning Chemicals
55%
Communications Equipment
57%
Continuing Education/Training
70%
Contract Cleaning Services
61%
Contract Services (HVAC, Elevators, Pest Control
80%
Curtain Walls/Window Walls
62%
Daylighting
67%
Door Hardware (Including locks, hinges & closers)
88%
Doors/Entrances
82%
Electric Vehicle Charging Stations
37%
Electric Equipment/Systems
73%
Electricity/Natural Gas (from utilities)
71%
Elevator Systems and Controls
55%
Energy Management Systems
81%
Energy Services/Consulting
68%
Equipment Rentals
73%
Exterior Building Products
79%
Facility Management Software
65%
Fire and Life Safety Products
85%
Fire Detection & Sprinkler Systems
82%
Floor Coatings
81%
Furnishings
65%
Furniture Systems/Interior
67%
HVAC Systems and Controls
85%
Indoor Air Quality Products
75%
Infrared Equipment
45%
Insulation
65%
Landscaping/Outdoor Products
78%
LED Lights
88%
Lighting Controls
89%
Lighting Products (Including ballasts, fixtures, EXCLUDING controls)
88%
Mass Notifications
36%
Metal Walls & Roofing
41%
Meters/Data Loggers
56%
Office Refurbishing
72%
Paints/Coatings
83%
Parking Management
64%
Piping
74%
Plumbing Products (includes valves & faucets)
78%
Power Reliability
63%
Power Supply
73%
Pumps
60%
Recycling Bins/Waste Containers
58%
Resilient/Hard Surface/Rubber Flooring
76%
Restroom (including hand dryers, toilets, urinals, partitions)
78%
Roof Coatings
67%
Roof Guards
63%
Roofing Systems
70%
Safety Products
82%
Security Products
73%
Shredders
38%
Signage Systems
79%
Snow Removal
56%
Standby/Emergency Power
52%
Storage Systems
69%
Structural Buildings Products
72%
Submeters
43%
Telecommunications/Communications
39%
VRFs
38%
Wall Coverings
79%
Wall Panels
66%
Water Coolers/Ice Machines
77%
Water Heaters
70%
Water Treatment
69%
Window Film
70%
Window Shading/Solar Control
74%
Windows
70%
Wire and Cable
64%
Wireless Technology
39%
Power of Print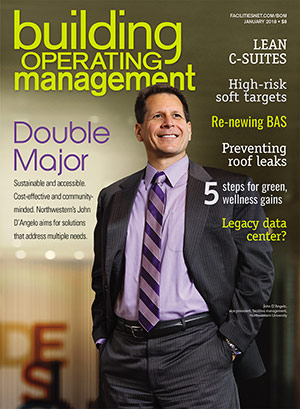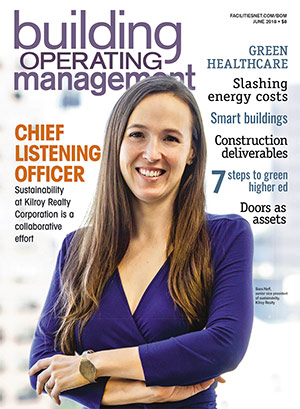 When facilities executives go looking for information and education a majority of them don't start with digital, they turn to print. More specifically, they turn to trade magazines. Because of this we always suggest marketing programs contain both print and digital components to reach this audience. Trade magazines may be considered old school, boring and not very sexy, but they are still very effective when marketing to facilities executives.
Research bears this out.
The 2018 Building Operating Management media usage study of facilities executives found that trade magazines were the number one source they use to learn about products and brands for purchase. Trade magazines finished ahead of search engines, websites, and social. Print does a better job than digital when it comes to getting your brand in front of facilities executives. In hindsight, this shouldn't be too surprising, as the average facilities executive is 53 years old. This generation was raised on print and continues to rely on print as their primary source for information and education.
An added benefit — print stimulates action. The 2018 Building Operating Management media usage study found that 86% of facilities executives took action after seeing ads in the print magazine. This same study discovered that 74% of the facilities executives visited the advertiser's website after seeing ads in trade magazines. And 84%of them went to the manufacture's website after reading articles of interest in trade magazines. Make no mistake, facilities executives read trade magazines. An independent research study shows that 88% of the facilities executives spend more that 15 minutes reading their trade magazine, and 50% spend more that 30 minutes with the magazine. This type of engagement is rare in today's digital world.
Print is still an effective way to reach facilities executives. Make sure it's part of your 2019 marketing plan.
2019 Editorial Calendar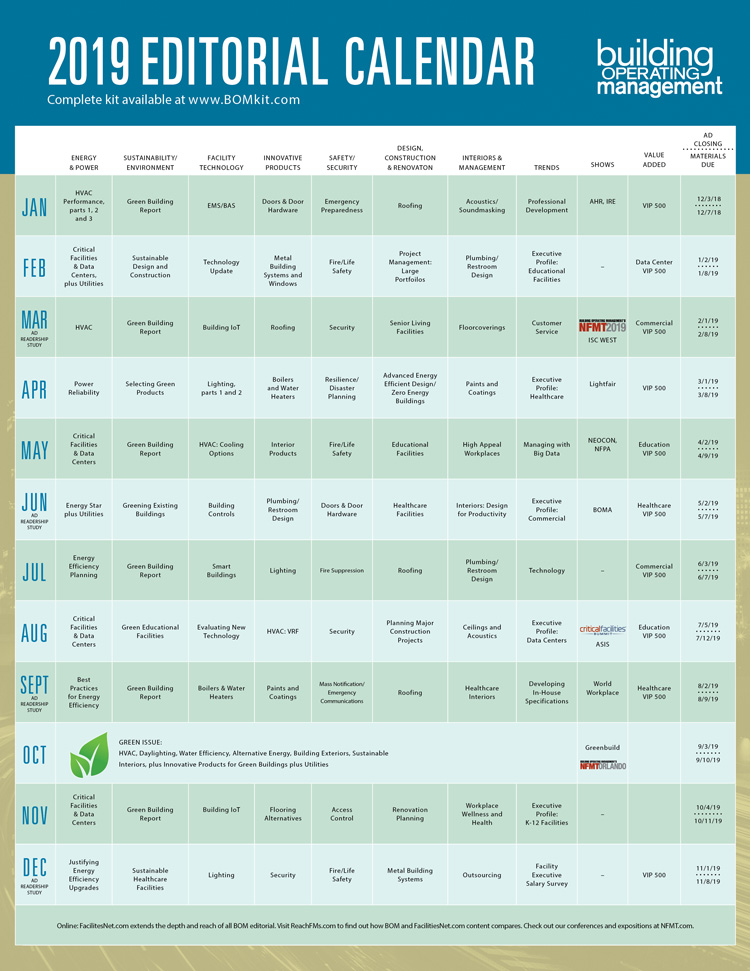 Circulation/BPA
Due to the meticulous qualification process of Building Operating Management readers, we can assure you that our magazine is in the hands of people that want to see your product. Building Operating Management is delivered into the hands of facility executives that have the knowledge and influence to make purchasing decisions for their company. As a result, when you advertise in Building Operating Management your ad has a significant impact on your bottom line.
To further support the notion that Building Operating Managment is the right place to invest your advertising dollars, Baxter Research Center performed a study that found the following:
88% of our respondents read each issue more than once, increasing your exposure to facility executives.
72% of Building Operating Management readers will act based on the ad they saw in the magazine.
In addition to our engaged readership, you can rest knowing that you have made the best choice for your company by investing in ad space with Building Operating Management. This is evident in our 16% more print copies than our closest competitor in Building Operating Management.
Download a pdf of our BPA statement
Print Specs
Preferred File Types
PDF/X-1a:2001 or TIFF (TIF) for: 4-color process (CMYK) ads.
EPS or DCS2 (Photoshop eps) for: 2-color (3 process colors) ads.
EPS or TIFF (TIF) for: Grayscale or B/W (Process Black) ads.
(Note: We are unable to process Microsoft Publisher files)
10 STEP GUIDE to obtaining a maximum quality print ad
All fonts must be embedded, converted to outline or rasterized.
Photos and artwork should be at least 300 dpi. Lineart (ie: logos) should be 1200 dpi bitmap or a Vector image. We cannot submit any photos or artwork, to the printer, with less than 266 dpi.
All color must be set up in either spot color or CMYK (process color). All RGB colors will be converted and will not appear in print as it did on-screen.
All black type must be black only, not Rich Black or Registration.
All color photos must be converted to CMYK with a total ink limit of 300%. Click here to see how to insure proper ink density levels.
All black and white photos must be converted to grayscale with a 20-25% dot gain.
Documents should be set up to the correct final ad size.
Any bleeds need to be set at 0.125" on all sides - no printer's marks or slugs.
Transparencies must be flattened. Layer/effects, Flattener Presets must be set to "high resolution."
It is recommended to use the Adobe PDF preset: PDF/X-1a:2001 when creating your PDF file. This setting is an industry standard for printing (please deselect all printer mark defaults and, if applicable, include the bleed here).
Color Typography
For optimum reproduction and clear and sharp copy, use sans serif fonts such as Arial, Calibri, Helvetica, Myriad or similar for small type. Reverse type reproduces best with large bold sans serif fonts. The same is true for color type. Thin serif fonts are difficult to read in color or reverse type. It is recommended that four color type and/or small four color reverse knock-outs be avoided. Black type that uses four color blends should never be used (Registration not allowed).
Submit Ad Materials
Mechanical Specs
Publication Trim Size: 7.875 x 10.75
Live Area: 7 x 10
| Ad Type | Width | Depth |
| --- | --- | --- |
| Bleed Page | 8.125" | 11" |
| Page | 7" | 10" |
| 2/3 Page | 4.5" | 10" |
| 1/2 Island | 4.5" | 7.5" |
| 1/2 Vertical | 3.375" | 10" |
| 1/2 Horizontal | 7" | 4.875" |
| 1/3 Square | 4.5" | 4.875" |
| 1/3 Vertical | 2.125" | 10" |
| 1/3 Horizontal | 7" | 3.125" |
| 1/4 Vertical | 3.375" | 4.875" |
| 1/4 Horizontal | 7" | 2.375" |
| 1/6 Vertical | 2.125" | 4.875" |
| 1/6 Horizontal | 7" | 1.5" |
Submit Ad Materials
FM Custom Research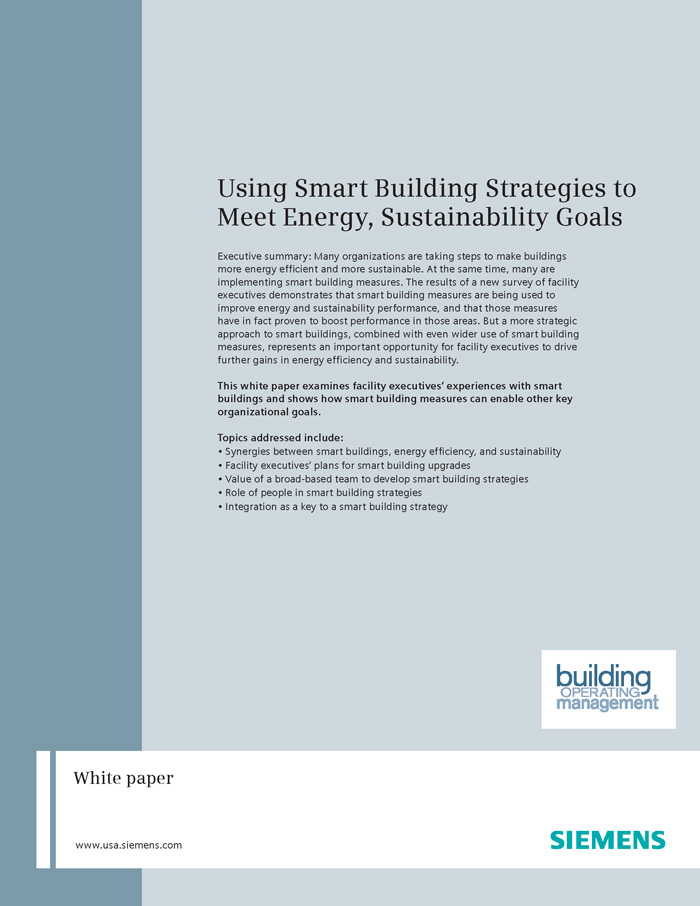 Building Operating Management can conduct custom research into the buying habits, brand awareness, product preferences and specification process of facility executives. Our research department conducts both quantitative and qualitative studies.
*Quantitative Research: Email invite/webbased surveys, telephone surveys, and postal (mail) surveys,
*Qualitative Research: Face-to-face research including in-depth interviews, focus group recruitment and moderation telephone surveys.
Quantitative data drawn from surveys of building owners and facility managers can add authority and credibility to your custom white paper or eBook. Our experienced editors and market researchers work with you develop survey questions. We program and host the survey, conduct the survey, tabulate the results, analyze the data and provide you with a comprehensive report which you can use for any marketing purpose.
Call or email us for a free one hour consultation to discuss your research needs and how we can help you. Contact Tim Rowe at 414-368-6860 or email tim.rowe@tradepress.com.