Marketing to Facility Maintenance and Engineering Management Professionals
Audience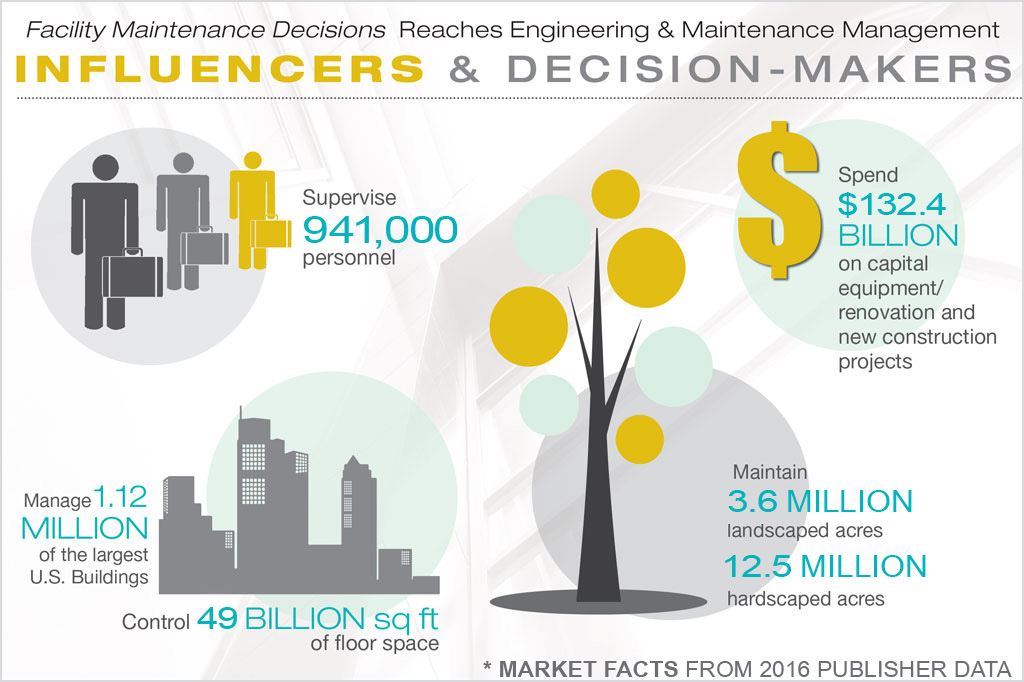 Meet the Buyers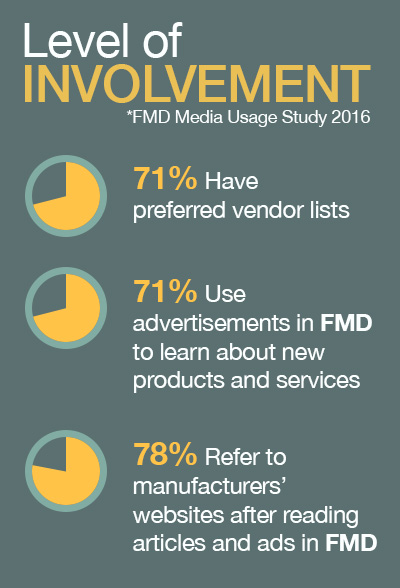 Education
Building & Grounds Supervisor
Kent State University
Director of Maintenance Services
Dartmouth College
Director Buildings and Grounds
University of Michigan
Director of Grounds and Buildings
Princeton University
Commercial
Facility Maintenance Manager
FedEx Corporation
Facility Maintenance Manager
Sysco Food Services
Government
Manager Maintenance Operator
United States Postal Service
Mechanical Engineer
US Air Force
Industrial
Site Engineering Manager
Pepsico
Maintenance Manager
General Motors Corporation
Retail
Engineering Manager
Best Buy
Facilities Maintenance Manager
Dollar General Corporation
Facility Maintenance Manager
Office Depot Inc.
Health Care
Construction Manager
Mayo Clinic
Director of Engineering
Mercy Medical Center
Director of Engineering Maintenance
Baylor Medical Center
Hospitality
Facilities Service Manager
Walt Disney World Animal
Benefit from Blanket Market Coverage
Readership Dynamics: 32,500 Print Circulation
Facility Maintenance Decisions magazine is unique in that it is the only publication that reaches across all building types at the engineering and maintenance management level.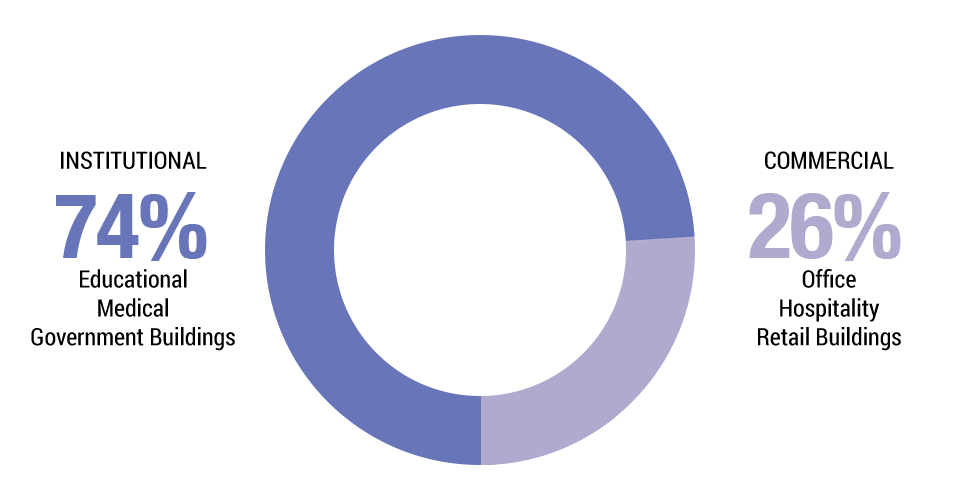 Editorial Mission
Facility Maintenance Decisions delivers essential information for maintenance and engineering managers in institutional and commercial facilities. Our editorial coverage directly mirrors subscribers' challenges. Facility Maintenance Decisions serves as a trusted resource, providing managers with the information they need to successfully coordinate the day-to-day activities of frontline technicians and supervisors, all with the goal of ensuring facilities operate safely, reliably, sustainably, and energy efficiently.
More About Our Subscribers
Years of experience in maintenance and facilities management

5 years or less
15%
6-10 years
9%
11-15 years
7%
16-20 years
12%
21-25 years
16%
26-30 years
15%
30+ years
26%
Average years of experience is 20.4
Age Group

Under 35 years old
3%
35 to 44 years old
10%
45 to 54 years old
34%
55 to 64 years old
48%
65 years or older
5%
Average age is 53 years
Gender:
*Results of 2017 Publisher Data
Which of the following forms of media do you expect to use for learning about products and brands for potential purchases in the next year?

Trade Magazines
70%
Websites
54%
E-Newsletters
43%
Trade Shows
34%
Webcasts
25%
Trade Magazines Websites
24%
White Papers
9%
Virtual Trade Shows
5%
Pass-along readership Subscribers report that they pass along their issues of Facility Maintenance Decisions to a mean number of 1.9 other professionals.
Product Selection
Facility Maintenance Decisions readers actively recommend, specify or approve product purchases.
| | |
| --- | --- |
| ADA Products | 70% |
| Air Conditioners | 89% |
| Arc Flash Safety Equipment | 54% |
| Boilers | 72% |
| Building Controls | 85% |
| Carpeting & Flooring | 79% |
| Cleaning Products | 72% |
| Ceilings | 81% |
| Communication Equipment (including wireless) | 47% |
| Contract Services | 82% |
| Demand Response Programs | 51% |
| Door Hardware (including locks, hinges and closures) | 86% |
| Doors/Entrances | 86% |
| Drain Cleaning Equipment | 75% |
| Electrical Equipment/Systems | 84% |
| Electrical Testing Equipment | 79% |
| Elevators & Service | 62% |
| Emergency Service & Equipment | 74% |
| Energy Management Systems | 80% |
| Energy Performance Contracts | 53% |
| Energy rebates/incentives or efficiency-enhancing programs | 68% |
| Energy Services (Electricity, Gas, etc.) | 61% |
| Facility Management Software (i.e. CMMS, EAMS) | 58% |
| Fertilizer/Insecticides | 45% |
| Fire Safety & Prevention | 86% |
| Fleet Vehicles & Accesories | 48% |
| Floor Coatings | 83% |
| Grounds Care Contract & Services | 61% |
| Grounds Care Tools & Equipment | 73% |
| Hand Dryers | 68% |
| Hazmat Equipment & Supplies | 66% |
| HVAC Replacement Parts | 87% |
| HVAC Systems | 85% |
| IAQ Products | 55% |
| Infared Systems | 41% |
| Insulation | 76% |
| Interior Office Equipment | 54% |
| Inventory Management/Barcoding | 35% |
| Landscaping/Construction Equipment | 66% |
| LEDs | 80% |
| Life Safety Products | 79% |
| Lifts and Ladders | 85% |
| | |
| --- | --- |
| Lighting Controls/Sensors | 85% |
| Lighting Products | 90% |
| Lubricants/Adhesives | 80% |
| Metal Roofs/Wall Systems | 56% |
| Meters | 65% |
| Motors and Drives | 76% |
| Mowers/Tractors & Attachments | 60% |
| Paints & Coatings | 80% |
| Pest Controls | 68% |
| Piping & Valves | 83% |
| Plumbing Products & Systems | 84% |
| Portable and Emergency Cooling/Heating Equipment | 74% |
| Power & Hand Tools | 88% |
| Power Generating Systems | 68% |
| Protective Clothing/Work Boots | 71% |
| Rental Equipment | 78% |
| Restroom Fixtures, & Accesories (sinks) | 88% |
| Restroom Paper Products/Dispensers | 62% |
| Restroom Partitions | 78% |
| Roof Coatings | 63% |
| Roofing Products & Systems | 75% |
| Safety Flooring | 75% |
| Safety Products | 86% |
| Sealants & Waterproofing Products | 79% |
| Security Systems & Access Control | 69% |
| Signage | 80% |
| Snow & Ice Removal Products | 72% |
| Storage Cabinets, Shelving, Lockers, & Mailroom Products | 77% |
| Submeters | 47% |
| Touchless Access Systems | 55% |
| Touchless Restroom Products | 73% |
| Training | 74% |
| Two-Way Radios | 62% |
| UPS | 61% |
| Utility Vehicles & Attachments | 60% |
| Wall Coverings | 64% |
| Wallboard Products | 72% |
| Waste Management & Recycling Products | 76% |
| Water Heaters | 76% |
| Water Treatment Products | 62% |
| Window Shading/Solar Control | 73% |
| Windows | 74% |

Request Rates