Marketing to the Healthcare Facilities Management Industry
Webcasts
PRINT
Custom Sole Webcast Sponsorship
We do the creative and run a custom marketing campaign for your event that includes eNewsletter, website and email promotion to our high-value audience.
1. Before and During the Webcast:
   Enjoy exclusive branding on promo or attendance building emails sent out during a two-week period
2. During the webcast
  Your 30-second, 5-slide commercial runs at the beginning of the Webcast
  Your logo appears on-screen throughout the Webcast
  Get valuable feedback by asking this audience up to four questions for your event via the event registration page and polling questions during the live event. (*sponsor can choose how they want to use those four between the registration page and live event polling)
3. After the webcast:
  You receive database of registrants and attendees (Email address, Name, Title Company, City/State, Phone)

  You get 12 months of bonus exposure as the webcast archive is posted on HealthcareFacilitiesToday.com
Key Values
  Generate a key list of interested decision makers

  You control the content

  Live questions from attendees

  Key educational opportunity to walk through the issues and explain the value and solutions you can bring to help solve the challenges attendees are dealing with
  View a sample Sole-Sponsor Webcast
Live events are limited to 1,000 attendees at the same time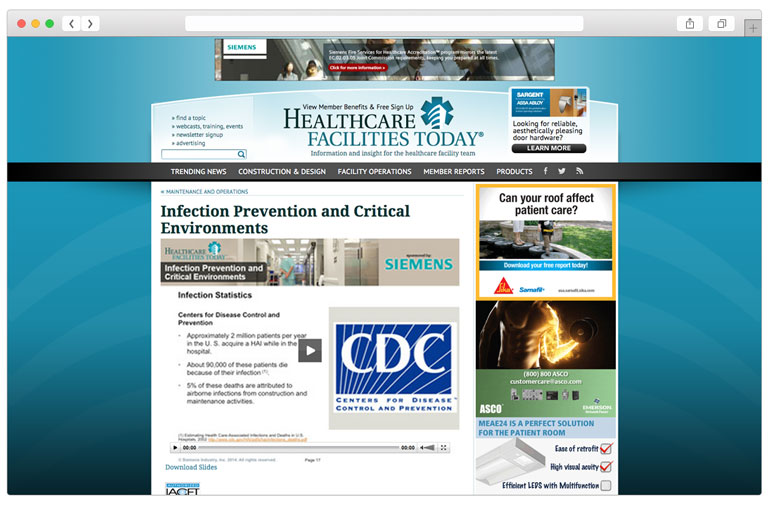 PRINT

A Bite-Sized Webcast Delivering Immediate Exposure to Busy Executive Facility Managers
This webcast-light, is low-cost, highly customized event is the perfect entry level webcast sponsorship. As a sponsor, you get:
  Sole-sponsored, custom content—you choose your topic. We'll assist in copy review, slide generation and provide experience and expertise to assure a successful event.

  You select speaker/presenter

  Presentation is a 30 minute, fast-paced broadcast, prompting facility managers to continue dialogue after the event.

  Exclusive branding on promo emails during the two weeks prior the webcast

  Promote to your prospect list (optional)

  Your logo appears on screen throughout the presentation

  You get the exclusive database of registrants and attendees—email address, name, title, company, city/state, phone
* Live events are limited to 1,000 attendees at the same time.

Request Rates